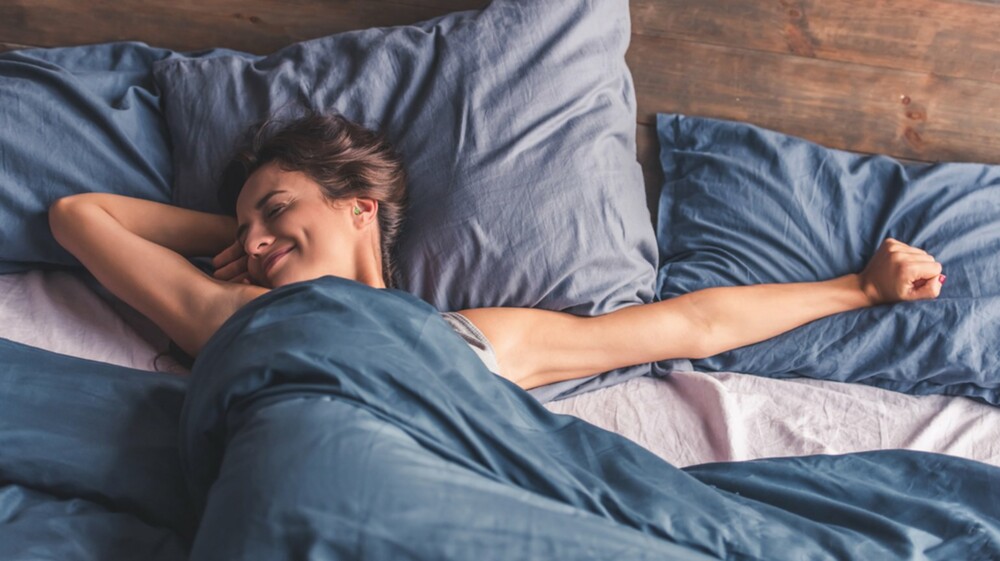 09 april 2021
Stop that snoring! 10 tips
We've gathered together the best tips and tricks to combat snoring, just for you – and we provide a tenth bonus tip for the specific benefit of snorers' partners!
Snoring is an obstinate nuisance that stops people sleeping, day after day, all around the world. And because so many people "suffer" from a chronic lack of sleep because of this snoring problem, countless studies on the subject are published, dozens of self-help books are released and a vast number of wonder products are launched onto the market every year – anything to put an end to this troublesome problem. But there's never much discussion about the fact that snoring is also unhealthy.
How does snoring happen?
When you sleep, your muscles relax. Your tongue is also a muscle – when it relaxes, it covers part of your throat, which narrows the air path between the nose and the vocal cords. This results in the roaring noise that we call snoring (Source: Thuisarts.nl).
The effects of snoring on your health
I expect that everyone snores when they have a cold, but there are some people who snore every night. These are chronic snorers. Snoring is not just bad for the sleep of the snorer's partner, it's also bad for the snorer's own health, too. No fewer than a third of all snorers develop health problems over time. Because a snore partially closes their airway, less oxygen is supplied to their blood. Over the long term, this can lead to cardiovascular problems. It's therefore in the interests of both the snorer and their partner to solve this problem, and various different options are available:
1. PRACTISE EXERCISES TO STOP THE SNORING
Mike Dilkes, a British Ear Nose and Throat doctor, recently published a book called "Stop Snoring", which sets out some easy exercises to reduce or even stop the snoring completely. Here are two examples of these: the tongue puller and the python.
For the first exercise, stick out your tongue as far as possible. Then move the tip of your tongue to your nose and move it down to your chin. Now move it to your left and then to your right cheek. Repeat this exercise 10 times at high speed. The second exercise is called the python. First of all, carry out a prolonged swallowing action. Try to stretch this action out for 5 seconds, and maintain as much pressure as possible in your throat. Repeat this exercise five times.
2. DON'T EAT JUST BEFORE GOING TO BED
If you eat a heavy meal just two hours before going to sleep, there's a chance that you might snore as you go to sleep that night. If you eat a large amount just before falling asleep, you put more pressure on your lungs at night, which makes your breathing shallower. Your breathing then gets faster, which means that more air circulates, increasing the probability of snoring. Therefore, you should try not to eat (or to eat too much) just before going to sleep.
3. STICK TO A HEALTHY WEIGHT
Excess weight can cause snoring. Plenty of exercise and a healthy diet are therefore not just good for your health – they can also help to prevent snoring.
4. LEARN TO SING
It might sound a little crazy, but if you're at your wit's end and you've had enough of snoring, why not try some singing lessons? These lessons will train some throat muscles that you rarely use in everyday life. As these muscles get stronger, the snoring might reduce. One little tip though: your partner might no longer need their ear plugs to keep out your snoring, but they may now need them to deal with your singing!
5. SLEEP ON YOUR SIDE TO MAKE IT HARDER TO SNORE
Do you prefer to sleep on your back? If so, try to fall asleep on your side. You are more likely to snore when you sleep on your back. This is because muscles such as the uvula and the tongue will then relax, and if you're lying on your back, they'll block your airway. Do you find it difficult to sleep on your side? Then move straight on to Tip 6.
6. TRY THE TENNIS BALL TRICK
Snoring often goes hand in hand with sleeping on your back. It's therefore recommended to sleep on your side. But if that never works because you automatically turn onto your back in your sleep, why not try the tennis ball trick? Just sew a tennis ball into an old T-shirt – which will make it very uncomfortable to sleep on your back, and you will automatically lie on your side. If everything goes well, sleeping on your side will probably seem quite normal after a couple of weeks, and you'll then be able to sleep like that without the tennis ball.
7. DON'T DRINK
Alcohol suppresses the nervous system and weakens your muscles. Relaxed tongues, mouths and throats (in particular) will cause snoring sounds. Do you long for a restful night? Then stay away from alcohol.
8. MAKE SURE THAT YOU GET ENOUGH SLEEP
This might seem a little obvious, but it's still worth saying. A healthy, regular pattern of rest at night combats snoring. Do you find this difficult? Read our 6 tips for a good night's sleep.
9. IF YOU GET A COLD, TREAT IT
When you have a cold, your nose gets blocked and you have to breathe through your mouth, which increases the likelihood of snoring. You should therefore treat any sniffles quickly – e.g. with a nasal spray to help your breathing and minimise the probability of snoring.
10. THE PARTNER'S TIP: USE EARPLUGS TO GET SOME SLEEP
So you're not the one who snores, but your partner rattles all the doors and windows – and you've already tried everything you know to get the snoring to stop? And has nothing helped so far – not even our tips above? With Alpine SleepSoft Earplugs, you can block out the annoying noises and improve your sleep.